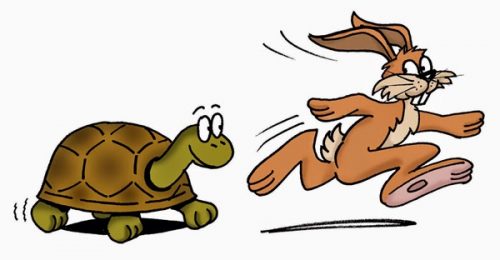 You see it all the time. Some real estate guru touting the latest and greatest technique for getting rich. They all sound like it's a piece of cake to buy and sell real estate. Let me tell you, it ain't.
The latest big thing is AirBnB. Just get a property and do short-term rentals. There's a lot of money to be made in short-term rentals. Well, yes and no. AirBnB and Vacation Rentals by Owner (VRBO) have enjoyed much success over the years. Unfortunately, vacation rentals are no longer the wild-wild-west. Local governments see vacation rentals as a cash cow and they're clamping down on them. A friend of mine had a AirBnB in Aspen, Colorado they had to sell because Aspen decided they wanted a bigger piece of the action. Check this out before you jump into short-term rentals.
We had a VRBO rental in Breckenridge, CO from 2006-2010. It was at a place called Tiger Run. Tiger Run is a vacation rental community located on the north side of Breckenridge. Tiger Run has a lot going for it for a mobile home park with long-term lots and a bunch of pull-through lots for RVs. They refer to the mobile homes on the lots as chalets. I have to laugh. As if, a french sounding name means they are upscale. LOL. But they are just mobile homes. I know because, in a previous life, I lived in an actual mobile home park east of Denton, TX.
The biggest problem that we had was with the Tiger Run HOA. Unfortunately, the people running the HOA were too snooty for me. Somehow, because they owned a small lot with a mobile home, e.g., chalet, they felt that they were in the same league as the folks with multimillion-dollar houses dotting the surrounding hills. We rented our chalet out and the HOA took a big chunk of the profits from that. They were mad because we didn't rent the chalet through them.
We lived about 2.5 hours from Breckenridge. This made it impractical to manage the property ourselves, so we had to hire people to maintain the property. That took some time with varying amounts of success. We sold our chalet and got away from the AirBnB business.
What's wrong with Go Big or Go Home?
There's a certain sector of real estate investors that subscribe to the Go Big or Go Home mindset. I've met quite a few. I was listening to a real estate podcast hosted on Wholesaling Inc where the host, a friend of mine, Brent Bowers was interviewing another real estate investor Brent Daniels. (Brent Daniels has a YouTube channel on wholesaling. I think he convinced Brent Bowers to start a YouTube channel, too.) I'm listening to Brent Daniels tell his story of about getting into real estate. What a disaster!! He ended up at 27 years old $750K in debt and divorced. The former caused by bad real estate decisions; I don't know about the latter. Brent Daniels clearly belongs to the Go Big or Go Home mindset. He managed to dig himself out of debt by learning to wholesale properties. But at what cost?
I know another guy who adopted the Go Big or Go Home mindset. He was going to make a fortune in real estate. A year or so later I saw his house on the Election and Demand list. The Election and Demand list is the first stage of foreclosure. Yup. He lost his house and probably his wife, too.
Another guy, let's call him Charles. He got into real estate by taking over peoples mortgages and then turning around and reselling the property carrying the note. He had over 60 properties!! Then the market fell out, people stopped paying, and Charlie didn't have the money to pay the underlying notes. He lost all 60 houses. He even lost his own house in the process! And, if that wasn't enough (and don't you think it ought to be?) because he was acting like an unlicensed mortgage lender, he got the attention of a local District Attorney. I'm sure I don't have to tell you, but you never want the attention of a District Attorney.
Go Big or Go Home can leave you deeply in debt and possibly destroy your relationships. You will learn something about real estate investing, but at what cost?
Get Rich Slow
I've seen lots of people get sucked into the Go Big or Go Home mindset. Sure, for some people it works out, but for a majority of people it doesn't. If you notice the list of the Forbes top 500 richest people in America isn't very stable. Yes, there's a few that stay up on the list, but it's constantly changing. It changes because a lot of people who get rich quick get poor quick, too.
Personal Story
My great-grandfather, Albert Cassin Penn, Sr., made a fortune selling razors to the miners in Colorado. Penn family lore says Albert left NJ and traveled to Colorado on a conastoga wagon and came back in his own railroad car. Why he returned to NJ is beyond me. Then, because Albert was a gambler, he lost it all and died penniless. His son, my grandfather, Albert Cassin Penn, Jr. made a fortune selling mattresses. He was a gambler, lost it all and died penniless, too. And yet, aother gambler. At the other extreme was my father, Richard. The biggest gamble he ever took was to buy Irish Sweepstakes tickets. He didn't like to gamble. He skipped the riches his father and grandfather experienced and died penniless, too. So doing nothing isn't a winning strategy, either.
The Sweet Sport between the Tortoise and the Hare
My goal is to take the middle road. Acquire wealth slowly. Don't buy expensive things you don't need. New cars, fancy house, expensive dinners, etc. Use your money smart. Don't over extend yourself. Buy one property at a time. Buy it smart. Always cash flow.
Maybe you don't want to be a full-time real estate investor. Maybe, just maybe, you like your current career, but you want to add some diversity or future security to your life. Most real estate gurus don't understand this. They're like, either you're all in or not. Go big or go home. Do you see the disconnect here? Not everybody is destined to be a big time real estate investor. Because you're just seeing the successful ones, not the large number of failed ones. And, that's OK.
Most successful real estate investors are Mom and Pop who take a conservative approach. Obviously, slow and steady wins the race. But remember, you have to be in the race to win.
The other part is to develop a process. Once you get one property. Setup a process to get more properties (if you want.) Then depending on market conditions apply the same process. Rinse – Lather – Repeat as often as you want.